March 2007 - The Making of GOTO Horn Speakers a la Haigner


It all started at the European Triode Festival (ETF) 2005 in Langenargen, Germany. This was loudspeaker designer David Haigner's first attendance at this venue (after Josef's and my report about the amazing and fun 2004 festival, David was hooked).
He was prepared though, and designed a pair of PA-horn systems especially for ETF 2005.
It was as often in cases like this: the PA-horn system got finished late night before our ETF journey started, but it was worth the effort. We had a lot of fun and musical pleasure at ETF 2005 in Langenargen.
David had a lot to discuss with the folks at the festival, because there are not often occasions were you find so many music lovers and experts in tube amp designs in one place. The atmosphere of the European Triode Festival is especially relaxed and so it was no surprise that the talks with 'Nick' Wimmer - a music fanatic and terrific SE amplifier designer - ended with agreeing on a new project.
'Nick', who had some famous and expensive GOTO horn drivers sitting in his house waiting for the right occasion to be part of Nick's final loudspeaker system ordered a horn speaker system from David, especially designed for Nick's GOTO drivers.
Here are two of these famous drivers:



| | |
| --- | --- |
| (Photo courtesy of David Haigner) | (Photo courtesy of David Haigner) |
Nick delivered the drivers to David's work space in Vienna and both discussed and agreed on the form of the horn speakers cabinets as well as that the speakers should be a state of the art system with as little as possible a compromise. David's design goals are time aligned systems with one constant directivity device covering most of the midrange. Custom designed waveguides for bass and midrange are used to give constant directivity from 100 Hz, combined with very high static to dynamic mass ratio for the GOTO 38 WNS (90 lbs concrete waveguide and 90 lbs brass counterweight on the magnet guarantee dynamics close to a real bass horn!).
Some time after Nick's visit, David started with the GOTO project. So, here is a photo documentation of the process (all photos courtesy of David Haigner) :
| | |
| --- | --- |
| CNC Routing of the bass reflex port | Bass reflex port pre finished |
| 1st level of the cabinet | 1st and 2nd level with bass reflex port |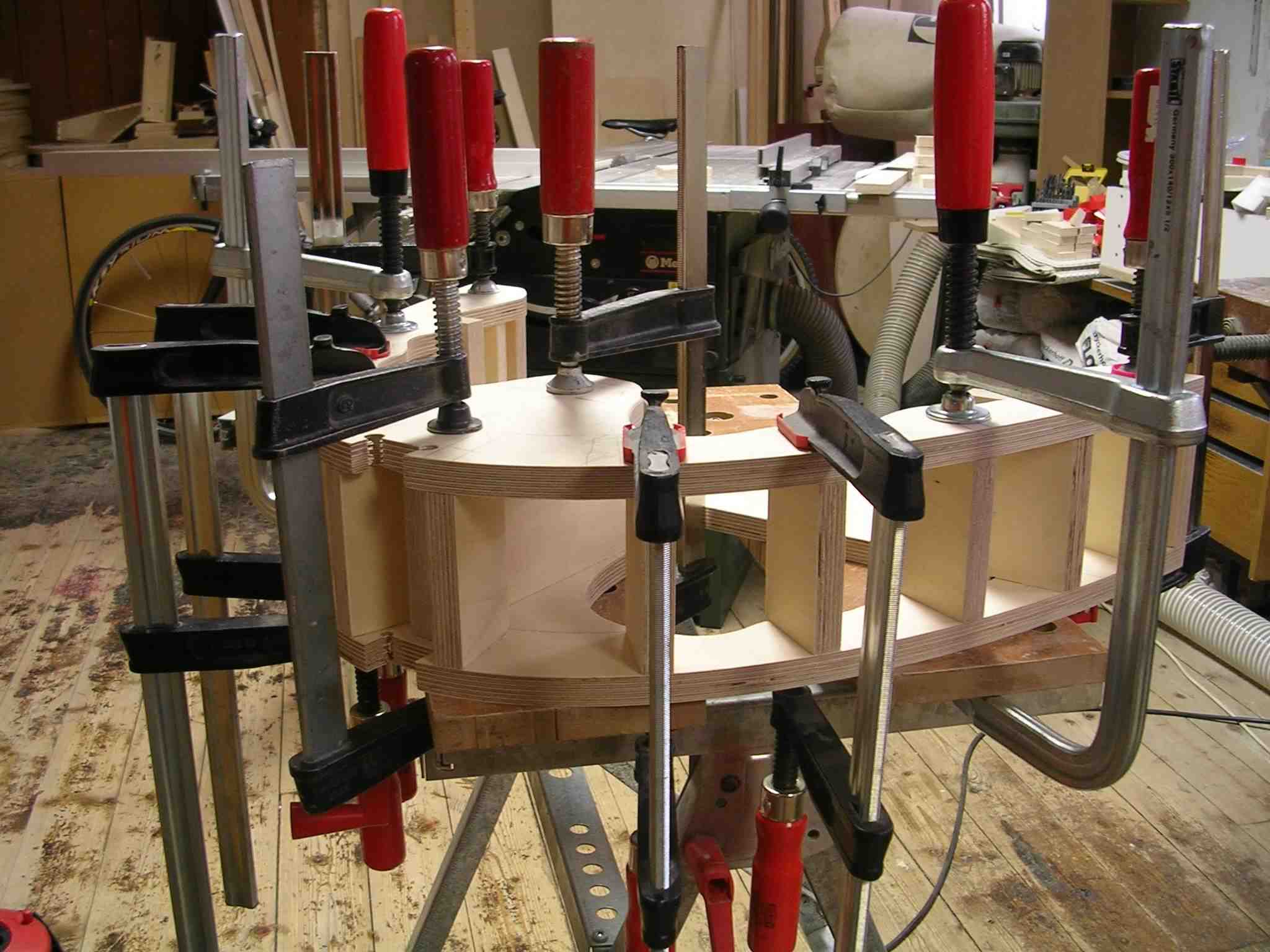 A lot of pressure needed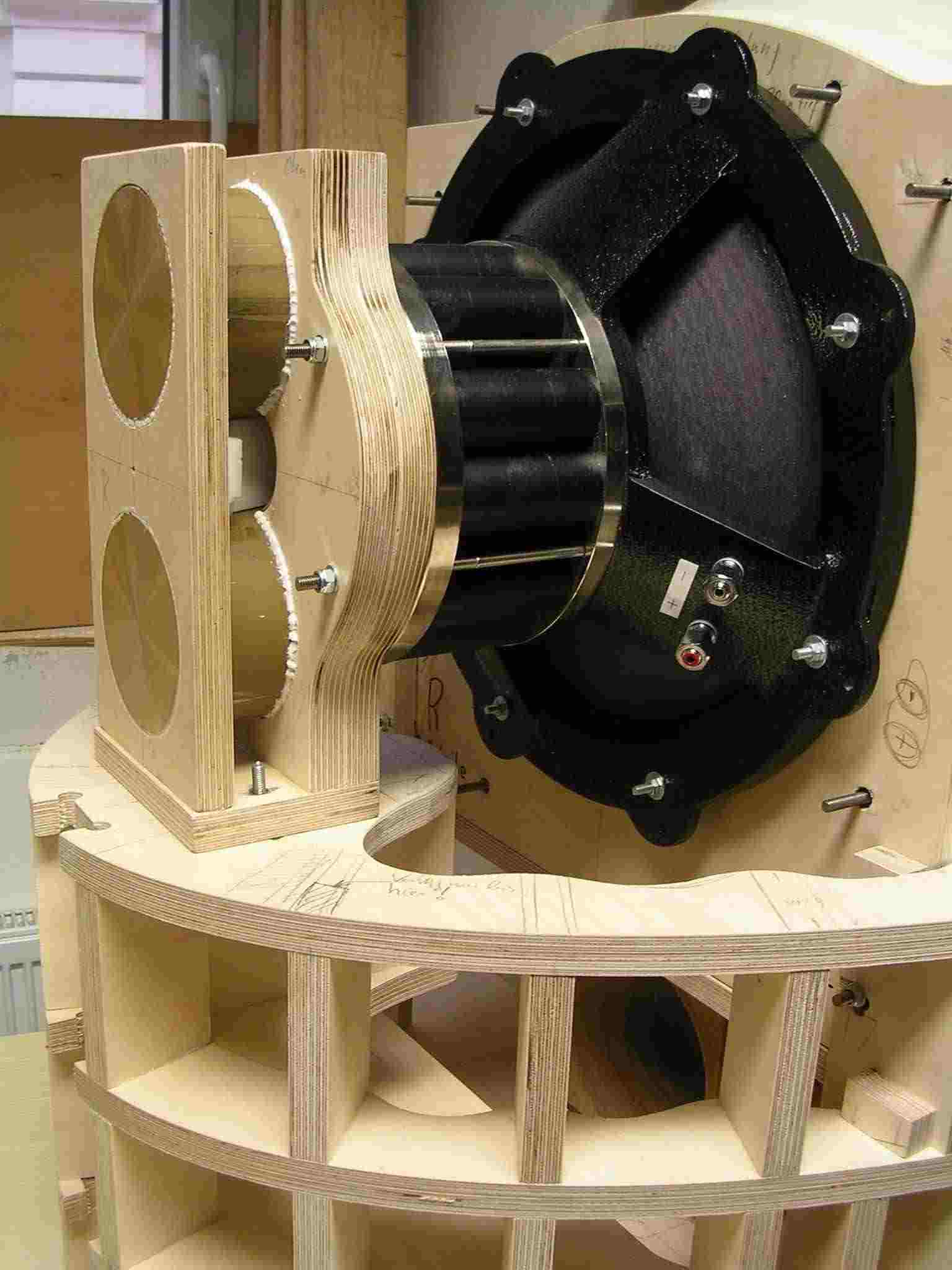 GOTO 38 WNS with brass counterweights


| | |
| --- | --- |
| Lower 7 levels of the cabinet with bass driver | "No compromise" corpus of the speaker |
And on we go...
| | |
| --- | --- |
| The making of the horn for the mids | Mid horn in place |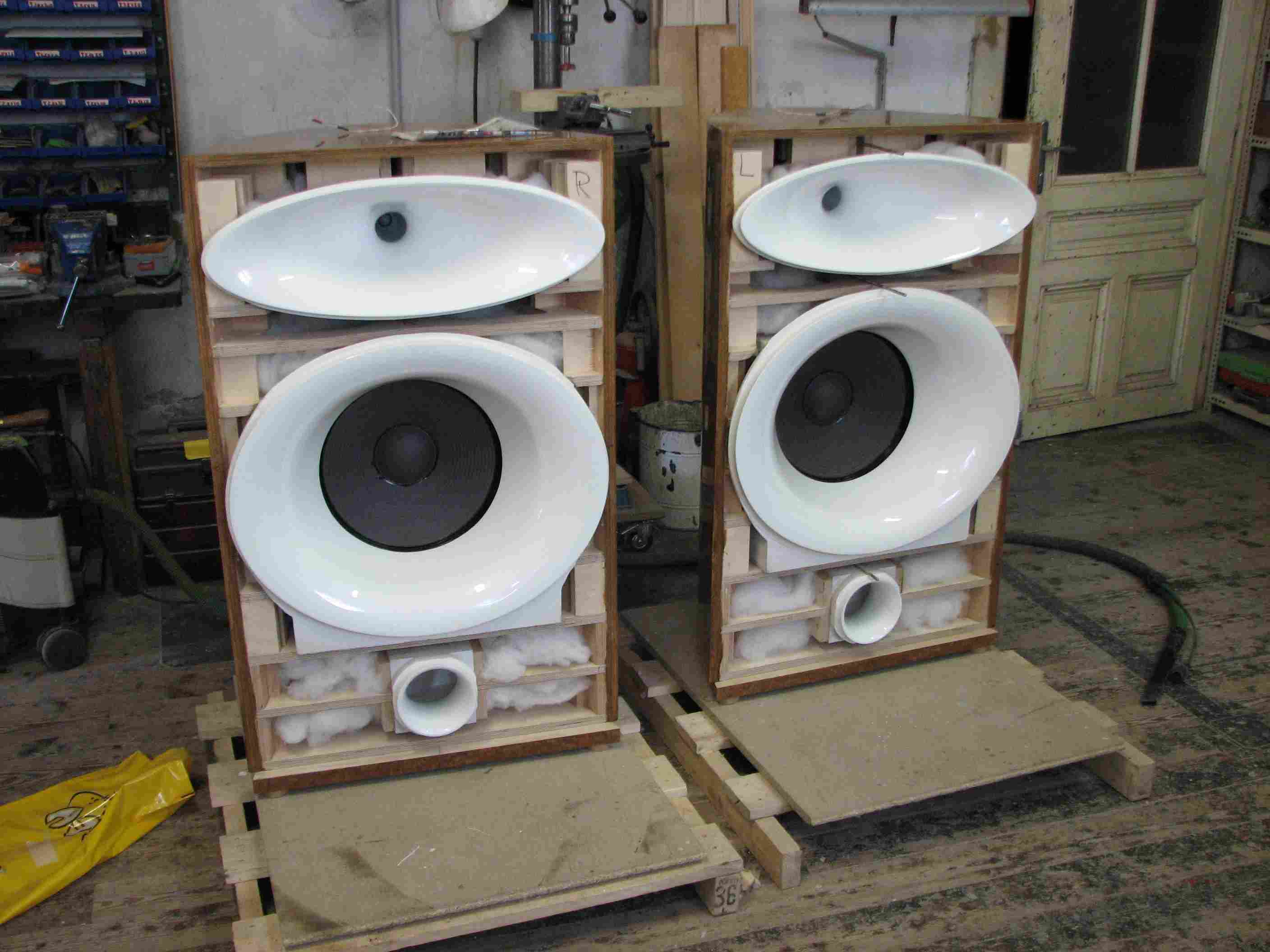 Now we get closer to finishing these outstanding speakers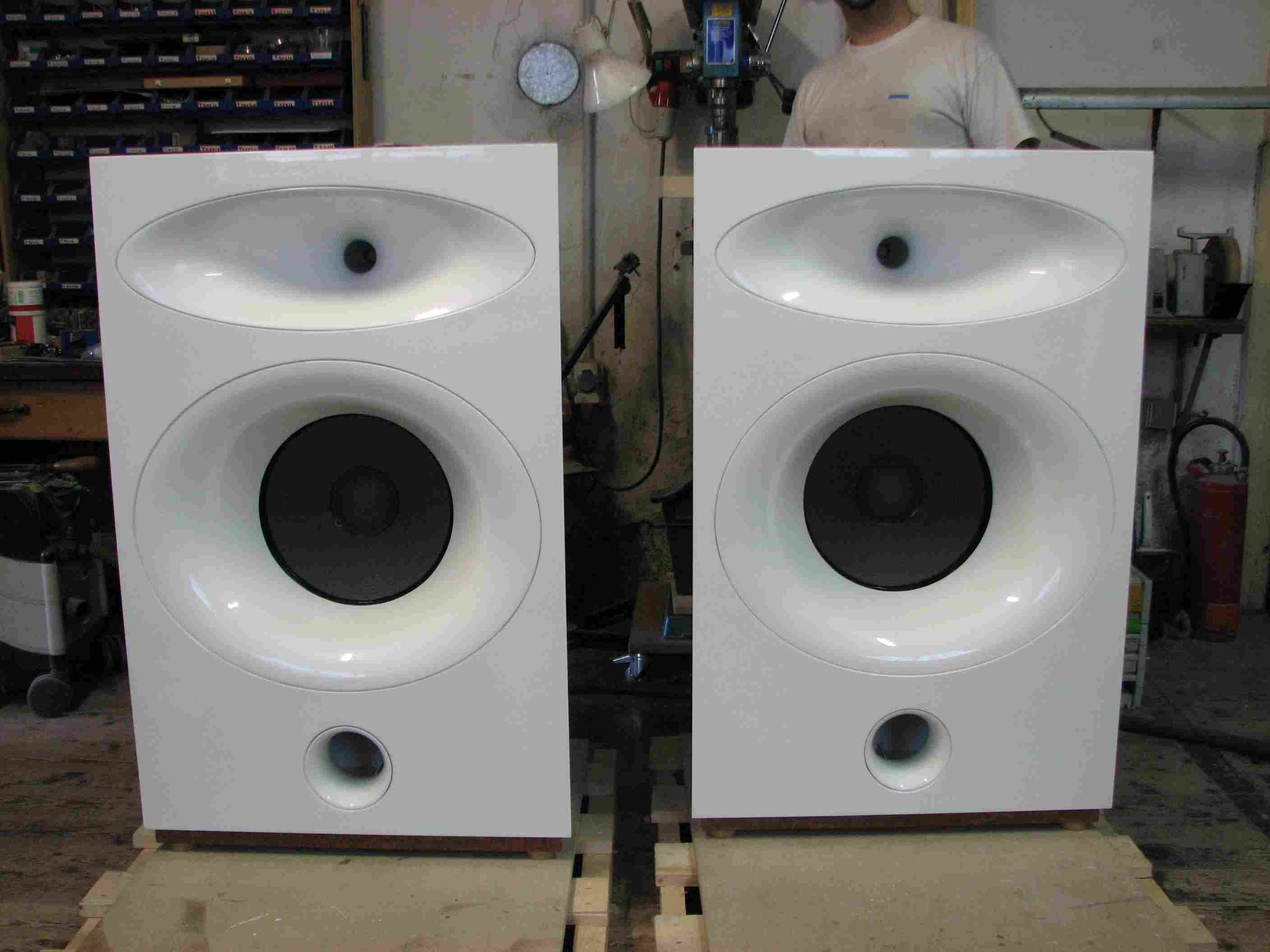 The finished Haigner "GOTO Horn" - speakers / "A work of art"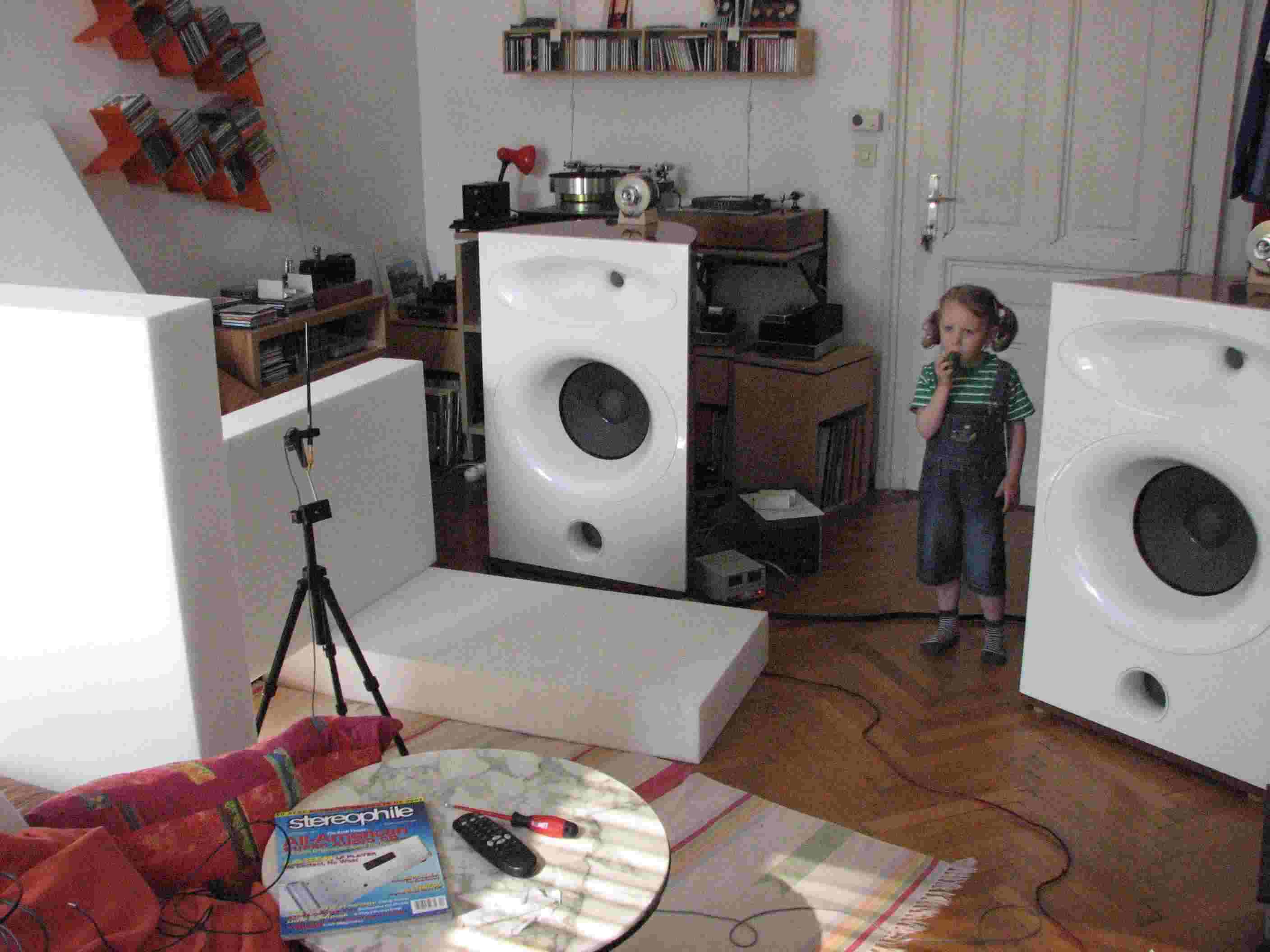 At David's place measuring, designing and tuning the crossover network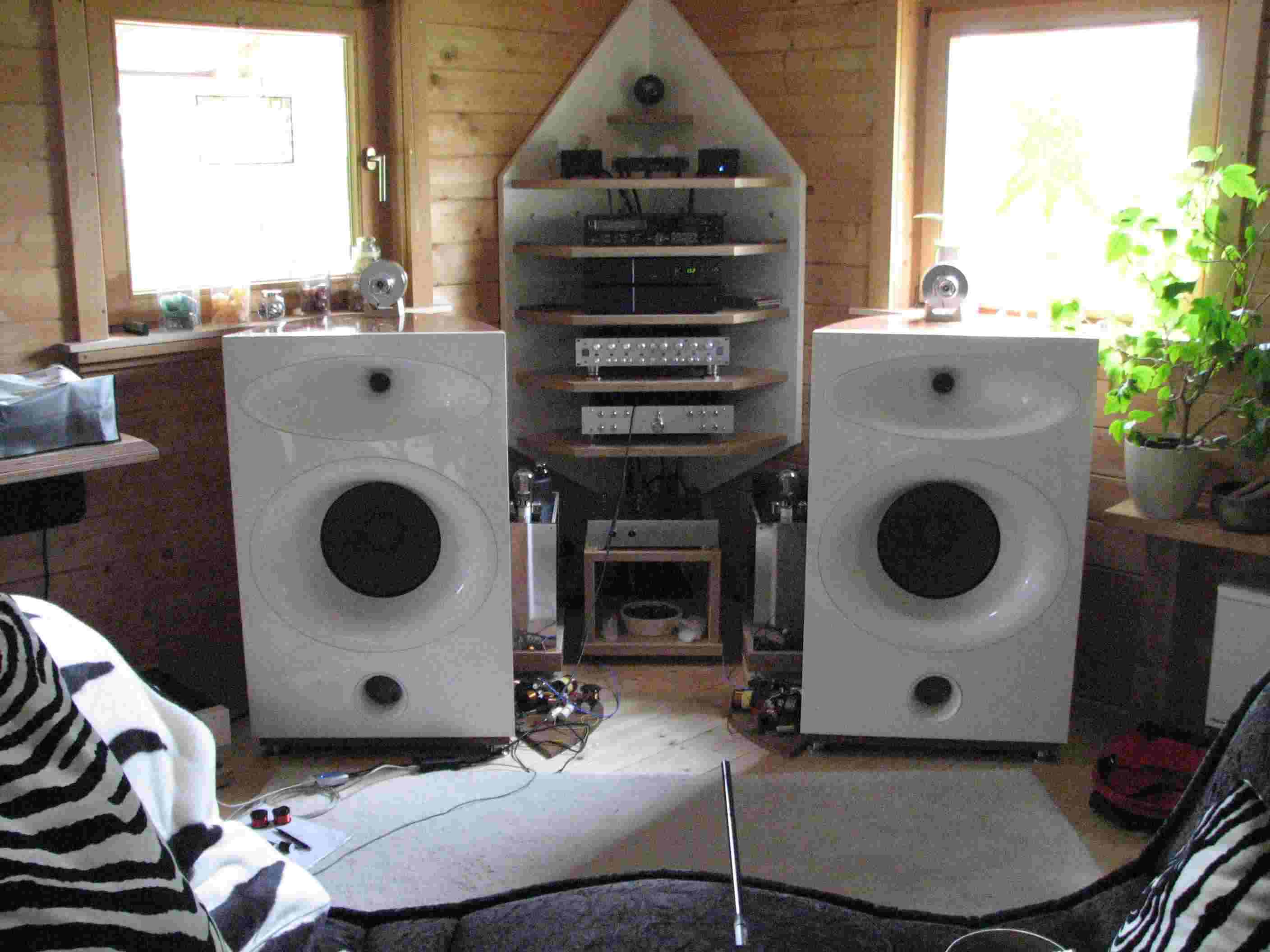 The finished speakers at Nick's place / for easier final tuning, the crossover network is still outside of the speaker cabinet. Who doesn't want to be in this sweet spot!


That's the end of the story about "The Making of GOTO Horn Speakers a la Haigner". Rumours tell, that Nick is no longer going out in the evening (no parties, etc.). The only thing he wants to do is listening to all of his records with his fantastic new speakers driven by his own SE 300B design, which according to David combines Border Patrol bass definition with new levels of transparency from the mids up.
For inquiries please contact: d.haigner"at"utanet.at

©The Audio Eagle 2005-2014 • All Rights Reserved • Disclaimer